Share:
---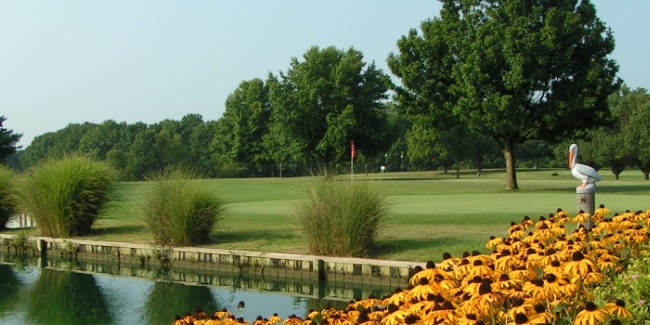 Carbondale, IL and Surrounding Cities Offer Golfers a Great Getaway
No Carbon Copy Found
By Glen Turk
There are some questions in life that must be answered. For most the big one is "Does Sasquatch really exist?" My answer has always been "Of course it exists - it's an old Nike driver."

But if you're a college sports junkie like me the main question has been "What is a Saluki and why is it the team name for Southern Illinois University, based out of Carbondale, IL.

It all starts with a legend that may or may not have been invented after the university took on the name in 1951. According to SIU's website the story goes something like this. "There was a drought in the northern counties (of Illinois) in the early 1800s . . . the wheat fields dried up, the streams died in their beds. But in southern Illinois rain fell and there were good crops, and from the north came people seeking corn and wheat as to Egypt of old.

And, in Egypt at that time, Salukis were accepted as the finest animals a family could possibly possess. Known for their speed and hunting skills, Salukis are the oldest pure-bred dogs in the world with records dating back to 3600 B.C."

With that mystery solved now it's time to explore the greater Carbondale area as an excellent golf destination with multiple outstanding public courses that are open over nine months a year including "the dog days of summer." Another cool element to the Carbondale experience is that Amtrak services the 26,000 resident college town and can be accessed from Chicago in an easy 5 1/2 hour non-stop trek. Ironic since the city spawned from the stimulation of railroad construction in 1853.

The first course of note in Jackson County is the appropriately named Jackson County Country Club in nearby Murphysboro. The 1923 David Gill/Steven Halberg design is a semi private club, which allows the golf course to be open to the public seven days a week. Membership does have its privileges as they do receive priority when it comes to making tee times plus they receive discounts for tournaments and other events.

If you've read MGM lately you'll hopefully realize how important we believe female and junior participation are in terms of growing the game. Jackson County CC's Samantha Sambrusky feels the same way and is doing something about it. As a former Saluki assistant coach, conference champion, and four-year letter winner for the Southern Illinois University women's golf team, Samantha believes this is her way to give back to a community that has does so much for her.

"We have a women's league that plays weekly from May through Labor Day plus I do clinics periodically throughout the year before they play," began Sambursky. "We also host a two-person scramble in July that typically has players from an hour or more drive away come to play. Next, we also have a junior league that plays one morning a week for ages 8 to 14 years old. They can come out for discounted prices and be paired with other kids of similar age and ability to play 5, 9, or 18 holes. I also personally love seeing the kids' faces light up when they finally get a hold of one and that's what brings them back the next time," stated Sambursky.

Men, women, and children all have one thing in common at Jackson County Country Club, their love of its signature hole, the par-5 3rd that features an approach shot over water to a difficult green. If you hit the shot of your life there's a good bet you'll receive a golf clap or two from the patrons enjoying a meal or beverage on their clubhouse patio. For more information on Jackson County Country Club, visit their website at www.jacksoncountycountryclub.com.

Less than eight miles east in Carbondale resides Hickory Ridge Golf Course, an upscale municipal course that has been serving the area since 1994. A prominent golf pro from the Saint Louis area recently told Mike Curtis, Old Hickory Special Events Coordinator, that his course is the finest public layout between the Gateway City and Memphis. And while MGM hasn't played every course between those cities, we can tell you that Old Hickory is a superb course that features immaculate conditions and no home sites throughout the 6,863 yard layout.

As the home course for two local high school golf teams and the University of Southern Illinois, Hickory Ridge GC has played host to nearly every important local tournament for the past 20 years. What really sets the William J. Spear design apart from other courses in the area is its ability to never get boring or old. In fact the aforementioned Curtis has logged over 200 rounds at Hickory Ridge and says he could play it every day for the rest of his life and be a happy man. Mike's other recommendations include pausing to enjoy the view on the par-4 7th hole and making sure you save room for their famous cheeseburgers - the best on the county he boasts! For more information on Hickory Ridge GC visit their website at www.hickoryridge.com.

Carbondale's next must-play is Crab Orchard Golf Course, located in Cartersville. Crab Orchard perfectly walks the tightrope of being fair while challenging thanks to the placement of towering oak trees and - water hazards throughout the 6,508 yard track. Sarah Haas, Crab Orchard's Club Manager, understands the value of being located in a thriving college town. "Our golf course benefits in many ways being located near a large university. First of all we receive a fair amount of student traffic and faculty players. Plus we get to host numerous golf team events and outings for university causes. Finally, we are able to bring in golfers from outside our area who are in town to visit family or friends at SIU," stated Haas.

Honestly, what's not to like about the greater Carbondale area? The weather is far superior to that of the upper Midwest, the golf courses are well conditioned and affordable, and finally the intellectual scene is one to be envied thanks to Southern Illinois University. No wonder it was just recently named Illinois' 6th most exciting city by Motovo.com. For more information on all that Carbondale has to offer, visit www.cctb.org or call (618) 529-4451.


Revised: 05/06/2015 - Article Viewed 20,887 Times
Share Comment
Written By: Glen Turk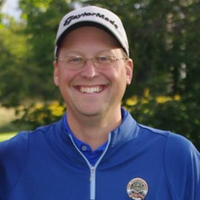 Glen Turk is a Wisconsin native and is the Senior Writer/Editor of Midwest Golfing Magazine. Midwest Golfing Magazine was formerly known as Pub-Links Golfer's Magazine and is a free publication distributed four times per year throughout Wisconsin, Illinois, Michigan, Minnesota, Iowa, Indiana, and Ohio.

His duties at MGM include writing course features, facilitating product testing, and overseeing the overall content and look of the magazine. But clearly his most important task is playing as much golf as his wife allows. Fortunately for him, she plays also and loves out-driving him even with a 60 yard head start.

Glen plays to a 6 handicap but once set a record by having his ball retriever regripped 15 times in one calendar year. It was a December trip to Guam that ultimately did him in. Finally, if you haven't caught on by now, the two most worthy weapons in Glen's writing arsenal are self-deprecating humor and pithy one-liners.

My signature line, "Be A Force on The Course" and now more recently, "Hit 'Em Where They Mow!" can be reused at no charge.