Share: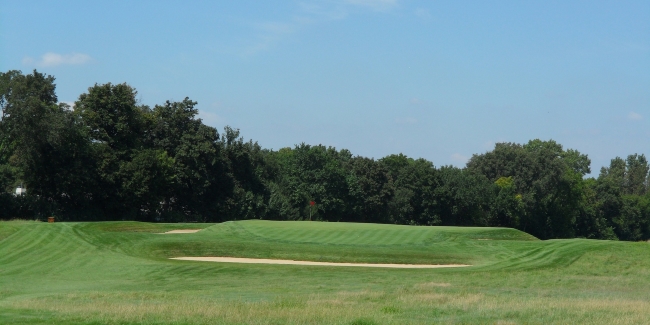 Chicago Golf Club gets first U.S. Senior Women's Open
By Len Ziehm
America's first 18-hole course is back on the U.S. Golf Assn. tournament schedule - and as the site of its newest national championship to boot.

Chicago Golf Club, in Wheaton, was named Saturday as the first site of the U.S. Senior Women's Open. It'll be played July 12-15, 2018.

The USGA has been pressured to host an event for women in the 50-plus age group for several years. It has long held championships for men in all age groups and also conducts youth and women's national championships, highlighted by the U.S. Women's Open and U.S. Women's Senior Amateur, for players of both sexes, but it didn't have an event for all the competitive older women. Those who spurred the growth of the Ladies PGA Tour were ignored.

Last year the organization announced such an event would be added to its schedule but it wasn't until Sunday that the actual event became a reality - and the first playing is still over two years off.

"The USGA is proud to realize its vision of hosting a national championship for players of all age demographics, and we are thrilled that that first two editions of the U.S. Senior Women's Open will be contested at two of the most respected courses in the U.S.,' said USGA president Tom O'Toole.

Pine Needles, in Pinehurst, N.C., will host the second U.S. Senior Women's Open in 2019. Both will be walking-only events over 72 holes and have 120-player fields, to be decided in a series of nation-wide sectional qualifying events for players with Handicap Indexes not exceeding 7.4. As is the format in other USGA competitions, the starting field in the finals will be cut to the low 60 and ties after 36 holes.

Sectional qualifying sites, as well as prize money for the finals, will be announced at a later date.

The Ladies PGA Tour has existed in 1950 for professional players, and that circuit has a Legends Tour for players who have reached their 45th birthday. The great players of the last few decades - like Nancy Lopez, Joanne Carner, Laura Davies, Carol Mann and Jan Stephenson - may find it challenging to get their games tournament-ready for Chicago Golf Club but they played a big role in finally getting the event on the USGA calendar.

While the USGA was slow to act on the senior women's side, one of the other top LPGA players - Jane Blalock - organized The Legends Tour, which has provided competitive opportunities for the older, former stars of the LPGA circuit. They're the counterparts to the PGA's Champions Tour, which has long flourished for male players whose competitive skills have diminished with age.

"We hope this championship will inspire generations of female golfers to continue competing at the highest level long into their careers,' said O'Toole.

The selection of Chicago Golf Club was most appropriate, as it will make the inaugural U.S. Senior Women's Open something special historically. The course in Wheaton was designed by Charles Blair Macdonald, the first U.S. Amateur champion, and was renovated by Seth Raynor in 1923. Otherwise, the layout has been relatively untouched since then.

"As a founding member of the USGA, Chicago Golf Club is honored to support the newest championship,' said Brad Kinsey, the club's president. "We look forward to making this, our 12th USGA championship, an exceptional event for players and spectators alike.'

Chicago Golf Club hosted the first U.S. Open and first U.S. Amateur in 1897 and also hosted U.S. Opens in 1900 and 1911. The first U.S. Senior Women's Open, though, will be the first USGA event at the club since the 2005 Walker Cup matches and first individual national championship since the U.S. Senior Amateur in 1979.

The USGA regularly picked Chicago courses for its biggest events in its first century of existence but that hasn't been the case since 2000. Though the U.S. Open of 2003 and the U.S. Amateur last year were played at Olympia Fields, the USGA did not have a Chicago course on its schedule for a national championship until Saturday's announcement.

Now, however, Chicago golf has jumped into the forefront of women's golf. The LPGA's UL International Crown team event will be played at the Merit Club in Libertyville in July and the KPMG Women's PGA Championship will be at Olympia Fields in 2017 and Kemper Lakes in 2018. The Kemper Lakes event will be played a month before the U.S. Senior Women's Open comes to Chicago Golf Club.
Revised: 02/11/2016 - Article Viewed 23,547 Times - View Golf Course Profile
About: Len Ziehm
---

My 41-year career on the Chicago Sun-Times sports staff ended with my retirement on June 30, 2010. During that stint I covered a wide variety of sports, but golf was a constant. I was the paper's golf writer for 40 years, during which time I covered 27 U.S. Opens, 10 Masters, 17 PGA Championships, four U.S. Women's Opens and the last 34 Western Opens in addition to a heavy load of Chicago area events.

For 20 years I was a columnist for Chicagoland Golf, a newspaper that suspended publication following the death of founder and good friend Phil Kosin in 2009. (This is not to be confused with the publication of the same name which was introduced in 2013 after being known as Chicago Area Golf for three years). I also contributed a chapter to a history book on the Solheim Cup and have been a member of the selection committee for the Illinois Golf Hall of Fame.

As a player I remain just an avid hacker with a handicap that never has dipped below 16.

---
More Articles by Len Ziehm