Share:
---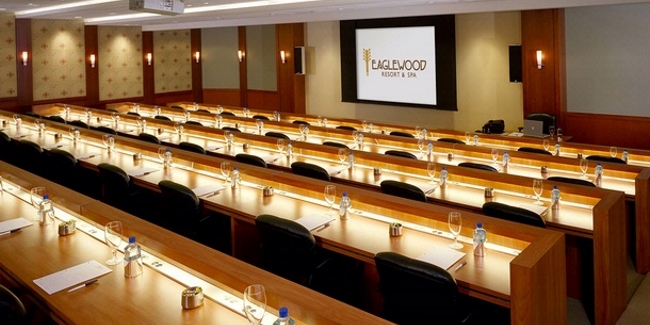 Eaglewood Resort & Spa Completes Multimillion-Dollar Renovation

Eaglewood Resort & Spa, located in the Northwest suburbs of Chicago, has recently completed a two-month, $1.2 million renovation of its state-of-the-art Conference Center. The makeover encompassed the Conference Center's meeting rooms and common areas, including new carpeting, wall vinyl, draperies & sheers, upholstery and furnishings, along with a technology upgrade to accommodate up to 100 Mbps of bandwidth. The colors, featuring warm and inviting earth tones, fall in line with Eaglewood's trademark Prairie-style design, which is prominent throughout the entire resort and pays homage to renowned architect Frank Lloyd Wright.

The Eaglewood project was designed by Moncur Design Associates Inc., based in Toronto. John Lee, Eaglewood's director of facilities, and CRS, based in Canton, Georgia, which specializes in hotel renovations, oversaw the renovation.

"For the past 10 years, Eaglewood Resort has been one of Chicagoland's top meeting destinations, welcoming more than 250,000 guests and meeting attendees from across the U.S.," said Charles Reece, general manager of Eaglewood Resort & Spa. "We recognized the need to modernize the Conference Center, yet maintain the relaxed style our meeting guests have come to expect from the property. The newly renovated design accomplished both objectives."

With more than 37,000 square feet, Eaglewood Resort & Spa is an IACC-certified space. This means the property ensures professionals are working in the most productive meeting environment possible. The resort features 37 function rooms, ballroom & amphitheater, outdoor terrace and conference concierge. Eaglewood's 18-hole championship golf course, complete health spa, and six-lane Brunswick Retro Bowling alley make the resort perfect for teambuilding events. In addition, Eaglewood Resort & Spa has been a leader in the green movement within the hospitality industry for many years, and in 2010 joined only 40 hotels nationwide in receiving the Silver Green Seal certification for efforts to reduce the impact on the environment.

News Source: Eaglewood
Posted September 14, 2015 || Viewed 2,763 times || View Course Profile
Share Comment