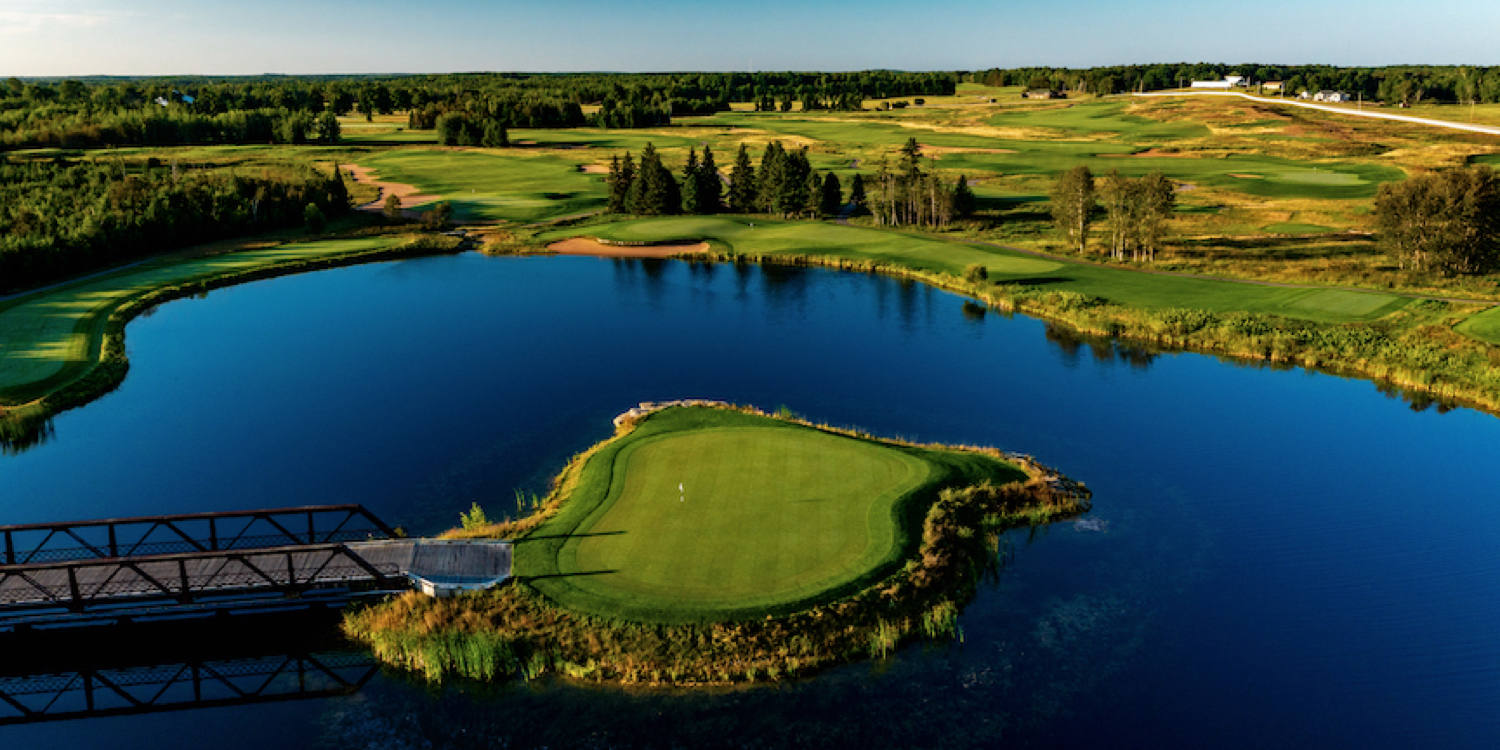 Pre-bookings have already begun, on pace to pass 2022
While golf season is over six months away, now is the perfect time for golfers to start locking in summer golf vacations. Home to award-winning Sweetgrass and Sage Run golf courses and located just outside of Escanaba in Michigan's breathtaking Upper Peninsula, Island Resort & Casino announces 2023 golf packages are now available.

The newly expanded Island Resort & Casino is coming off a record-breaking year in golf rounds. And with the sport's continued rise in popularity, the resort is experiencing high demand for hotel rooms and golf, which has put golf package pre-sales on pace to surpass 2022's sales.

"During a normal golf season pre-pandemic, people would start booking packages in February," said Tony Mancilla, General Manager of the resort. "This was about 2,000 rounds that would pick up through the spring."

Mancilla went on to say that recent accolades for the two golf courses and the positive impact of resort renovations and other Island Resort & Casino efforts have increased demand from 2,000 pre-bookings by the end of February 2021 to 16,000 by the same time in 2022.

"By late April, it was 30,000 rounds, and we will end up doing over 36,000 rounds in 2022, our best summer for a five-month season," he said.

The Island Resort & Casino golf packages have soared in popularity, in no small part due to the accolades bestowed on its two championship courses, both designed by architect Paul Albanese. Sweetgrass Golf Club was awarded 2021 Michigan Golf Course of the Year and 2022 National Golf Course of the Year, and Sage Run was named a 2019 Golf Digest Best New Course.

Island Resort & Casino golf packages combine the best golf in the region
Whether it's a buddy trip or couple's golf getaway, fully customizable golf packages can be booked featuring 1-, 2-, 3- and 4-night lodging options with up to four rounds of golf. Package prices range from $95 - $758, depending on the time of year and single or double occupancy.

The hugely popular Perfect 4-Some package is a great way for Golfers to expand on their golf options. The combination of Island Resort & Casino's Sweetgrass and Sage Run courses, together with the acclaimed Greywalls course in Marquette and TimberStone course in Iron Mountain make the region a top golf destination. Perfect 4-Some packages include 3, 4, and 5-night lodging options at Island Resort with four rounds of golf.
---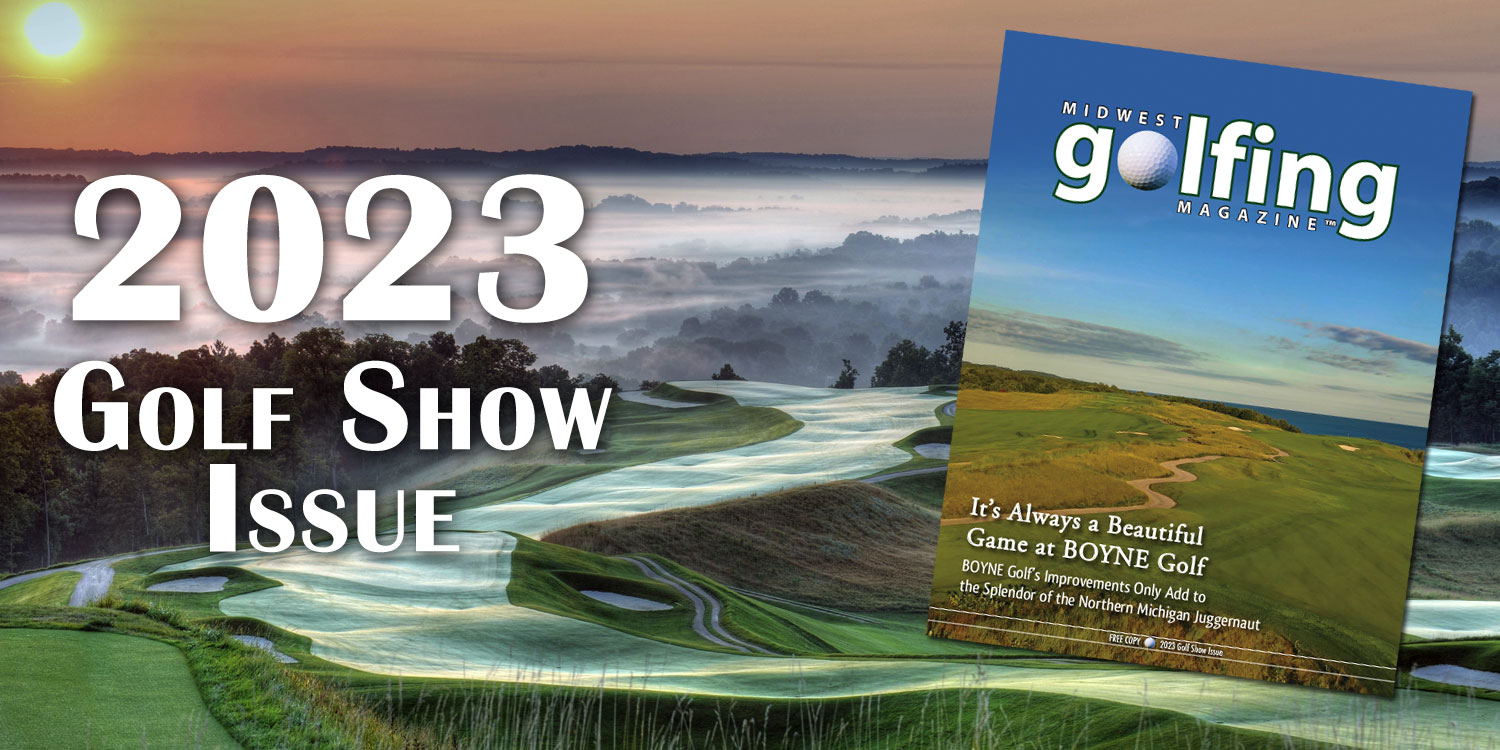 Read Online Issue Free
Jay's Tee Box

As a golfer living in the Midwest, I've been living my own version of Ground Hog Day for the past 30 years. For every year I seem to play my best golf of the year at the end of the season, only to have to take a weather-induced pause for four to five months. That break serves two purposes – first, it gets me more excited for next season to start, and it raises my handicap by at least four shots from the past fall. Such is life!

If that sounds familiar, then you're at the right place as Midwest Golfing Magazine is dedicated to helping you bridge the gap between now and when we can put our first peg in the ground of 2023.

Our Golf Show Issue not only features a series of incredible Midwest golf destinations that are itching to have your group visit once the temperatures turn, but a few warm-weather spots that are ready as we speak.

We begin with our cover feature on BOYNE Golf in Northern Michigan. Editor Glen Turk visited the dynamic property last August and chronicles a list of incredible renovations from their ten courses and three resorts! Staying in the Wolverine State, we also profile Shanty Creek Resort in Belaire that is home to 90 championship holes, making it one of the Top 10 largest resorts in North America.

MGM absolutely loves the Hoosier State, so we are thrilled to highlight Hamilton County, which is just northeast of Indianapolis and is home to a dozen plus outstanding daily fee courses. Lead staff writer Matt Tevsh then showcases French Lick Resort which is home to 45 holes, two distinctive resorts, and a stellar casino in the town that Larry Bird made famous.

If you are looking to head even further south, MGM recommends the 27 courses and 11 sites that comprise the Robert Trent Jones Golf Trail in Alabama. The Trail is pleased to open their first walking-only short course, The Back Yard in Birmingham, as part of Oxmoor Valley.

Mr. Turk was busy last year, as in October he ventured to Brunswick Islands on the coast of North Carolina. Perfectly positioned between Willington and Myrtle Beach, Brunswick Islands features 30+ public-access courses all within a short drive of each other. After catching his first Spanish Mackerel on the trip, Glen informed me he's sending his resume to Deep Sea Fishing Magazine.

This issue's Midwest Golfing Personals is well-done story by Deb Patton on former Minnesota Marine Martin Caraway and the peace he's found through On Course Foundation, an organization that supports the recovery of military personnel through golf.

Finally, an issue of Midwest Golfing Magazine would not be complete without Ask Annex, our Pro Page by Michael Crowley of Morningstar Golfers Club, Chip Shots, Must Haves, and the always comical Turk's Takes.

Make Some Birdies,
Jay Royle – Publisher