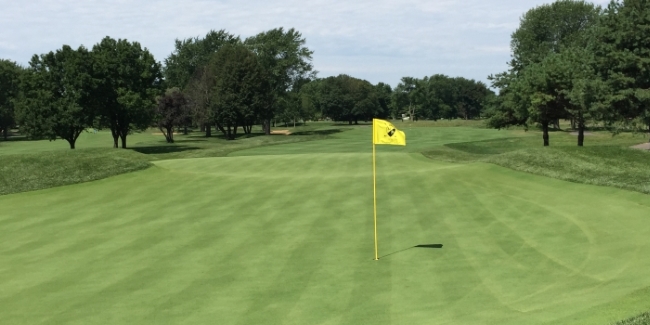 Mount Prospect Golf Club Re-Opens to the Public after Thrilling Renovation
By Glen Turk
After a 12 month renovation project, Mt. Prospect Golf Club in Mt. Prospect, IL has re-opened to the public with fabulous results. The 1926 Seth Raynor gem has been restored to its original design, thanks to the talent and foresight of Esler Golf Design. "This was a unique opportunity to restore and enhance a historic golf course back to its original design elements and make it available to the daily fee public," stated Brett Barcel, Mt. Prospect's Director of Operations. "Too many public courses are built or altered to offer somewhat the same model design. We offer something more unique, something that doesn't have to hold to those typical rules. Restoring an old course back to its origins, surrounded by a beautiful neighborhood, makes it special," concluded Barcel.

A trademark of the Raynor style is the incorporation of British inspired golf holes, including Punchbowl, Redan, and Barritz green structures. MGM's favorites include the drivable par-4 9th with its 50 yard long Barritz green and the 13th, a mid-range par-4 that culminates in a stunning Punchbowl putting surface.

The course was not only reinvigorated, but redesigned as well. Five new holes greet golfers on the inward nine, including holes 10 through 13 and the par-4 18th. It is a credit to Esler Golf Design that except for a post round press release we had no idea the course had been altered. Mt. Prospect GC is a member of the Mt. Prospect Park District and more information about the project can be gleaned at https://www.mppd.org/facility/golf or by calling their pro shop at 847-259-4200.

Revised: 11/04/2015 - Article Viewed 33,712 Times - View Course Profile

About: Glen Turk
---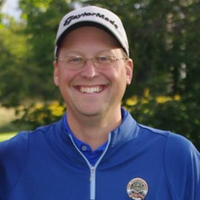 Glen Turk is a Wisconsin native and is the Senior Writer/Editor of Midwest Golfing Magazine. Midwest Golfing Magazine was formerly known as Pub-Links Golfer's Magazine and is a free publication distributed four times per year throughout Wisconsin, Illinois, Michigan, Minnesota, Iowa, Indiana, and Ohio.

His duties at MGM include writing course features, facilitating product testing, and overseeing the overall content and look of the magazine. But clearly his most important task is playing as much golf as his wife allows. Fortunately for him, she plays also and loves out-driving him even with a 60 yard head start.

Glen plays to a 6 handicap but once set a record by having his ball retriever regripped 15 times in one calendar year. It was a December trip to Guam that ultimately did him in. Finally, if you haven't caught on by now, the two most worthy weapons in Glen's writing arsenal are self-deprecating humor and pithy one-liners.

My signature line, "Be A Force on The Course" and now more recently, "Hit 'Em Where They Mow!" can be reused at no charge.

---
More Articles by Glen Turk