Chicago's Harborside International a Windy City Winner - Illinois
By Glen Turk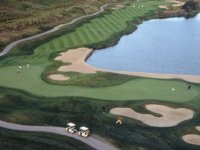 There are two things that I know to be true when describing members of the golf media: they live for playing new courses and they are the truly the best at offering unsolicited feedback regarding their overall experience. So when Jay Royle, Kevin Packard, and Matt Tevsh made the pilgrimage to Harborside International on the south side of Chicago last year, I looked forward to their honest assessment. And as one superlative after another flowed from their descriptions it became painfully obvious I missed an incredible golf trip. But unlike Amy Winehouse I learn from my mistakes, so I was present and accounted for on this year's trip to one the Midwest's most distinctive destinations.

Before we delve into what sets Harborside International apart from the competition, let's quickly set the stage with a brief history lesson. Harborside International features a thrilling compilation of two 18-hole championship layouts that fortunately for us have been open to the public since in 1995. The dual Dick Nugent masterpieces are designed in the links tradition of treeless, wind swept English, Scottish, and Irish seaside courses, which transport golfers back to the origins of the game. But how a plethora of moguls and rugged bunkers got to a piece of land only 16 miles from downtown Chi-town is an interesting tale.

In the early 90s, the present day Harborside was nothing more than a sprawling landfill of sludge from the metropolitan sanitary district and construction rubble. Once the landfill met its permitted limit, an alternative had to be reached. The Illinois International Port District, who owns the land, came up with the idea of building a world-class golf course and the rest as they say is history.

But trying to grow tour-quality fairways and greens on top of a landfill was a difficult proposition at best. That's why of all his designs, Dick Nugent is most proud of the work done at Harborside. The project has won numerous awards for "environmental, engineering, and landscaping issues encountered during development" according to his website. So literally many people's trash are now a golfer's treasure chest, as Harborside International is an oasis amongst Chicago's fast-paced urban lifestyle. "We get a lot of play from the downtown area," said Head Golf Professional Kevin Fitzgerald. "We think we're the best course closest to downtown."

In an intentional design, the Starboard and Port Courses are so identical it's eerie. The fact both 18's play to an exact rating of 75.1 and a slope of 132 only reaffirm their duality. "The two courses are extremely similar. They were built that way on purpose so there wouldn't be one that would be thought of as any lesser than the other," explained Fitzgerald. "They're different from the other Chicagoland golf courses because they are links-style, while most other courses in the area are parkland."

Two-time Masters Champion Ben Crenshaw compared Harborside to Muirfield in Scotland, which has been the sight of several British Opens, including the 2001 championship won by Ernie Els. But I know for sure that Muirfield doesn't offer epic views of the city skyline and the Port of Chicago amid 458 isolated acres of sculpted fairways, manicured greens, tufted mounds and tangled roughs like Harborside does. Plus, you'll feel like a Country Club member for a day with amenities like a 24,000 sqaure-foot Prairie Style clubhouse, deluxe locker rooms, premium golf carts, a retro halfway house. A top-rated 57-acre practice facility with grass tee driving range, as well as chipping and pitching greens, roughs and bunkers also await those smart enough to arrive an hour early.


The nautical theme is permeated throughout Harborside from the top down. Heck, one of the Head Golf Professionals is named Fitzgerald. I did check though, the GM is not named Lightfoot. I fully expected Captain Stubbing to be the starter and Gilligan to wash my clubs post-round, but a chipper young man named Matt was just fine by me. Moreover, all greens are defined by cart paths that are landscaped with rocks and wooden posts strung together by ropes and you'll occasionally hear the dulcet tones of a nearby boat horn from the relatively close Lake Michigan. Oh yes, Harborside stays true to its roots, but they don't go overboard in their subtle presentation skills.

Before I describe a few of Harborside's flagship holes, it's important to note that it's not about any one hole or view at Harborside. Instead it's about the overall experience that captures you from the first tee and doesn't let go until you're putting out on 18. Some vistas make you feel like you're on Kiawah Island, while others elicit you're across the big pond far, far, away from home. I've never felt so isolated in a place so close to the big city. Any hole that faces northeast presents prodigious views of downtown, including The Sears Tower and the John Hancock Center. Honestly, it's way too easy to get distracted at the omnipresent contrast in beauty, so the only time I suggest keeping your head down is during your swing!

Here's one quick sidebar before we get into the meat of the courses. I could take the time to count the number of bunkers at Harborside, but that would only make MGM stalwart Kevin Packard more depressed. On the front nine of the Port Course Kevin tallied 55 strokes. Twenty-eight of them were taken from a cavalcade of sandy graves. You may think I'm exaggerating, but next time Kevin plays Harborside I'm making sure he's brings a camel and a canteen. But Kevin actually enjoyed his sandscape journey because the quality of the sand is so pristine; there is just so much of it. But on a property with nary a tree, a myriad of sculpted beige hazards provide a more than suitable defense.

In my humble opinion, Harborside's hallmark is not the massive desert distractions, but instead what they lead to. One impeccable green complex after another awaits you that have the look and feel of the finest country club you've ever played. In fact, I turned to Publisher Jay Royle on the 6th green and told him I could sleep on this green and it would give my Verlo mattress a run for its money. The overall conditioning of Harborside ranks right up there with other Illinois icons like Cog Hill, The Glen Club, and Rich Harvest Farms.

The Port 18 plays 7123 yards from the tips, and offers three more sets of tees roughly 700 yards apart. The best holes on the outward nine are both par-5's and are classic links style representations. The par-5 2nd plays as close to a straightaway hole that you'll find at Harborside and tops out at 544 yards from the gold tees. Six bunkers protect the last 160 yards of the hole, including five on the left side of the green complex. This is a clear design strength at Harborside, as usually trouble alternates sides as you get closer to the putting surface.

The 575 yard par-5 9th features a baker's dozen of sand traps including four at the perfect spot for the distance I usually carry my tee shot. Your approach will need to be feathered in between two rotund fairway bunkers while your third shot has to carry five traps to an uphill green. There is a large tier in the middle of the green that must be negotiated if a shorter birdie attempt is to be had.

After five solid holes to start the inward nine your journey truly begins. At one of the highest points of the property rests the tee box of the 216 yard par-3 15th named "Anchor." I'll let Head Golf Professional Terry O'Neill take over from there. "It's our signature hole and features the crest of Harborside, as the fairway of the par-3 is in the shape of anchor. A lot of our customers say I want to play the hole with the anchor on it and we know exactly which one they're talking about. The green is a one-of-a-kind as from one end to the other it's 100 yards and in the shape of a boomerang." The beauty of this hole is the green shape and the fact Dick Nugent designed seven tee boxes so this hole rarely plays the same way twice. Also since you're firing to a slightly sunken green, club selection is paramount.

The last three holes on the Port show off stunning views of Lake Calumet and combine with the 15th to form an amazing final four. The 389 yard 16th is tight enough off the tee that something other than a driver should be hit to stay in play. On the 407 yard par-4 17th you must hit driver to carry the sharp dogleg and one 214 yard long bunker down the entire right side. Yes, that's not a misprint; the snapping dogleg left is highlighted by the largest fairway bunker I've ever seen.

Your round concludes with the simplistically beautiful par-5 18th. The 522 yard hole heads towards the clubhouse and encompasses a narrow fairway that remarkably has no bunkers past the 243 yard mark. It does however have a small white stake reminding you to head back to the cart part that somehow Kevin Packard managed to clip on his 3rd shot. If you saw the width of this stake you'd think he we the most accurate player of our generation. The putting surface is massive at 39 yards deep and features a mini-boomerang shape much like the 15th. Make sure to take in the beauty of Lake Calumet and the perpendicular 18th of the Starboard Course as you make your way up to the green.

Designer Dick Nugent may have crafted virtually similar 18's at Harborside, but The Starboard appears a bit more friendly off the tee. Or, maybe it was that I played the Starboard last and got most of my bad drives out of the way in the morning. The 398 yard par-4 2nd on the Starboard gets the MGM award for most out of place hole at Harborside. Why you might ask? It's the only hole of 36 sans bunkers. Yes, no beige granules anywhere. But the hole is called Postage Stamp for a reason. It's got a tiny sliver of a green that features a huge ridge going from left to right in the middle. It actually is a tough driving hole because the lack of bunkers doesn't give you a defined target off the tee. See, only I can turn a positive into a negative on the course.

The second longest par-4 on the Starboard is also one of its finest. At 466 yards, the hole dubbed "Far" requires a booming drive. The fairways are firm at the 6th though as a drive carried 220 yards will run out to over 250. This hole screams mega shot values as both the tee shot and approach feature some of the best sight lines on the property. Your approach will require accuracy to a sunken green that is guarded by two oversized traps- one left and one right. Take a par on this superb hole and be thrilled.

On the backside, the Starboard course shows its bite on the ultra challenging trifecta of holes at No's 12-14. The par-5, par-3, par-4 combination will surely have you grinding to make three elusive pars. The 560 yard 12th is a wicked tight three shot wonder that's protected by no less than 8 greenside bunkers. Those bunkers didn't come into play for publisher Jay Royle, who had less than 200 yards in after a monumental drive. A deft 7-iron left him 4 feet from an unprecedented eagle. Regretfully, Jay didn't go to the bullpen for a designated putter, but a tap in birdie is never a bad thing.

Next, it's time to tackle the 225 yard par-3 13th that normally plays into a 20 mph wind. Odds are you'll be hitting a graphite shafted club to try and tame this beast. A 50 foot drop off short and right toward Lake Calumet makes the setting unforgettable. If the wind is blowing mightily, there is no shame in laying up to the fairway provided left of the putting green. Yes, laying up on a par-3 three is a prudent move; it sure beats taking a double after an errant tee ball.

The par-4 14th is 474 yards and directly into the same wind that wreaked havoc at the 13th. I absolutely love how this hole sets up off the tee. It's the perfect case of risk reward, as a 240 carry over bunkers will give you a better angle than a bail out to the left off the tee. Even though you know you're going to have a long shot in, it's still enjoyable to play a demanding hole every once in awhile.

Two holes later is Head Professional Terry O'Neill's late round gem. Just like the seven par-3's before it, Harborside's final short hole is another winner. "My favorite hole on the Starboard Course is number 17 as it's about 185 yards from the tips and it cuts across the edge of Lake Calumet. It's a visually intimidating shot with water short and right, especially the farther back you go," stated O'Neill.

So in the end the boys of MGM were right all along- Harborside International will capture your imagination with tremendous views, conditioning, and service from the moment you arrive. I just wish I wasn't the last to know. For more information on Harborside International, visit their website at www.harborsideinternational.com or call (312) 782-7837.

Revised: 11/08/2010 - Article Viewed 33,950 Times
About: Glen Turk
---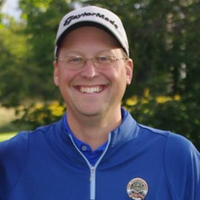 Glen Turk is a Wisconsin native and is the Senior Writer/Editor of Midwest Golfing Magazine. Midwest Golfing Magazine was formerly known as Pub-Links Golfer's Magazine and is a free publication distributed four times per year throughout Wisconsin, Illinois, Michigan, Minnesota, Iowa, Indiana, and Ohio.

His duties at MGM include writing course features, facilitating product testing, and overseeing the overall content and look of the magazine. But clearly his most important task is playing as much golf as his wife allows. Fortunately for him, she plays also and loves out-driving him even with a 60 yard head start.

Glen plays to a 6 handicap but once set a record by having his ball retriever regripped 15 times in one calendar year. It was a December trip to Guam that ultimately did him in. Finally, if you haven't caught on by now, the two most worthy weapons in Glen's writing arsenal are self-deprecating humor and pithy one-liners.

My signature line, "Be A Force on The Course" and now more recently, "Hit 'Em Where They Mow!" can be reused at no charge.

---
More Articles by Glen Turk